Biographical Sketch of Herbert L. Fred, MD, MACP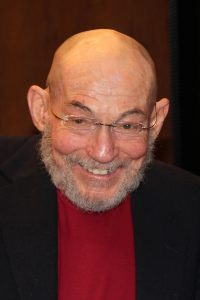 Herbert L. Fred, MD, MACP, is Professor Emeritus of Medicine, McGovern Medical School, Houston, Texas. He currently serves as Associate Editor of the Texas Heart Institute Journal.
He was born in Waco, Texas, on June 11, 1929 to Helen and Isadore ("Isie") Fred.  His father, a jeweler by trade, taught him that it isn't the color of your skin, the size of your pocketbook, the depth of your knowledge, or the religion of your choice that matters.  It's what you do with what you have that counts.  His father's immense concern for the welfare of others inspired Herb to choose medicine as his calling.
His mother taught him the importance of an education, the value of high standards, and the virtues of integrity, discipline, and punctuality.
Herb graduated as valedictorian of 400 students in his Waco High School class of 1946.  He received a BA degree from the Rice Institute in 1950 and an MD degree from the Johns Hopkins University School of Medicine in 1954.  He then completed his internship and residency training at the University of Utah Affiliated Hospitals in Salt Lake City.
After 2 years in the U.S. Air Force, Herb joined the faculty of Baylor College of Medicine in 1962.  During his 7 years at Baylor, he was named the Outstanding Full-time Clinical Faculty Member by the senior classes of 1964 and 1965.  The senior class of 1967 dedicated its annual, the Aesculapian, to him.
Herb became Director of Medical Education at St. Joseph Hospital, Houston, in 1969.  There he created Houston Medicine, a bi-monthly medical journal that went to all physicians in Harris county.
In 1971, he became Professor of Internal Medicine at The University of Texas Medical School in Houston.  Between 1974 and 1979, the interns and residents at St. Joseph Hospital and at The University of Texas Medical School gave him a yearly award for "Excellence in Teaching," and from 1990 to 1999, he earned the "Dean's Excellence Award." In 1999, he received the Benjy F. Brooks, MD Outstanding Clinical Faculty Award from the Alumni Association of The University of Texas Medical School in Houston.
Over the years, Herb continued to receive numerous awards and honors.  Houston City Magazine selected him as one of Houston's "84 most interesting people in 1984," and Houston Mayor Kathy Whitmire honored him by designating October 7, 1988, as Dr. Herbert L. Fred Day.  That same year, President Ronald Reagan issued Herb a Presidential Commendation in recognition of 27 years as a medical educator in Houston.  In 1994, The American Medical Writers Association, Southwest Chapter, awarded Herb a Certificate of Appreciation for outstanding contributions as a medical writer and journal editor.
In 2002, Herb's former trainees honored him for 50 years of bedside teaching by founding The Herb Fred Medical Society.  He was named The American College of Physicians-American Society of Internal Medicine Distinguished Teacher for 2004.  That year, he was The Donald Church Balfour Visiting Professor in Medicine at the Mayo Clinic in Rochester, MN. And in 2005, he won the TIAA-CREF Distinguished Medical Educator Award.
In 2006, Herb received the Distinguished Alumnus Award from the Waco, Texas, Independent School District Education Foundation.  Additionally, students at the University of Texas Medical School in Houston created a film titled "A Special Tribute to Herbert L. Fred, MD."  In 2007, Herb received The Federation of State Medical Boards Award for Excellence in Editorial Writing.
Herb was the inaugural speaker in 2012 at the annual Herbert L. Fred, MD, MACP, Visiting Professorship in Medical and Biomedical Education at the Institute for Excellence in Education, The Johns Hopkins University School of Medicine.  The Texas Chapter of The American College of Physicians gave him The Laureate Award that year for his abiding commitment to excellence in medical care, education, and community service.  In 2013, the Quality of Life Research Center at Claremont Graduate University, Claremont, California, granted him a Certificate of Recognition as an exemplary mentor in the positive development of junior colleagues in the medical profession.
His additional honors included a film on YouTube titled "In Honor of Herbert L. Fred, MD, MACP;" Honoree of a Gala benefiting the Texas Medical Center Library; The John P. McGovern Compleat Physician Award, presented annually to one physician in America whose career is founded on the Oslerian ideals of medical excellence; a Certificate of Congressional Recognition from the U.S. House of Representatives for dedication and commitment to the practice of medicine and the healing arts; and Honoree: "A Tribute to Herbert L. Fred, MD, MACP" Special Grand Rounds, McGovern Medical School.
Herb lectured or was a visiting professor of medicine throughout the United States and in China, Canada, Italy, Switzerland, and Denmark.  In addition, he authored 20 medical book reviews, chapters in 6 medical texts, 506 journal articles, and 6 medical books, one of which was nominated for the National Book Award.  He also wrote health-related articles for The Pittsburg Post Gazette, The Houston Post, The Houston Chronicle, The Macon (Georgia) Telegraph, and USA Today.
Many of Herb's clinical accomplishments are noteworthy.  He closely supervised the medical care of indigent patients in Houston for 55 years and served as consultant for physicians across America.  In addition, he and his colleagues made numerous, important contributions to the diagnosis and management of pulmonary thromboembolic disease.  He and other associates were the first in the world to perform cardiac catheterization on patients with acute pulmonary edema of altitude, proving for the first time that the illness does not result from heart failure or pneumonia.
At the age of 88 years, in his 488th publication, Herb described 5 patients (2 of his own) who had the tricuspid insufficiency─pulsating varicocele connection.  That disorder is now officially called the Fred Syndrome.
He and a Baylor medical student were the first to report use of the ophthalmoscope to diagnose sickle-cell disease.  He was the first in America and second in the world to report the cause, consequences, and cure of grossly bloody urine of runners.   And he was a member of the team that established the diurnial variations of plasma 17-hydroxycorticosteroids in humans.
During his professional career, Herb collected and catalogued for quick retrieval an estimated 3 million medical reprints, presumably the largest medical reprint file in the world.  That file, along with Herb's papers, documents, letters, awards, and family photographs is housed in the Texas Medical Center Library Archives.
Herb was a member of the Texas Medical Association and Harris County Medical Society for more than 60 years.
His love for and appreciation of libraries culminated in construction of The Herbert L. Fred, MD, MACP Student Study Hall, which opened March 30, 2016, in the Texas Medical Center Library.  Medical students and house officers from the Houston medical schools can gain access to the Hall 24-7-365.
Herb served on the editorial boards of 5 national medical journals, the Board of Governors of the American Osler Society, the Board of Trustees of Houston's HCA Medical Center Hospital, the Board of Directors of the Friends of the Texas Medical Center Library, and was President of the Houston Congregation for Reform Judaism for 2 years.
Many of Herb's students became leaders in American Medicine, including a head of the United States Food and Drug Administration, a medical school chancellor, a president of a health science center, a president of the American College of Physicians, a president of a state medical association, a president of the American College of Gastroenterology, a president of the Infectious Diseases Society of America, a president of the Southwestern Surgical Congress, 3 medical school deans, 13 department chairs, 17 division chiefs, 8 training program directors, an executive director of a state board of medical examiners, and 3 different presidents of the Harris County Medical Society, the largest county medical society in America.
In 1966, well before the current emphasis on physical fitness, Herb decided to develop a strong body as well as a strong mind.  Consequently, he began to run, quickly graduating to marathons and ultramarathons (100-kilometer, 100-mile, and 24-hour races).  From 1980 to 1983, he set a number of national age and age-group records for ultradistances, including a 100-mile run in 17 hours, 2 minutes, 3 seconds at the age of 53.   On April 20, 2016, Herb completed an entire year of running one mile or more every day─a world record for 86-year-olds.  He ended his running career in 2016, having totaled 253,010 miles─more documented lifetime miles than anyone else in the world.  His interest in sports medicine led to his appointment in 1980 as adjunct professor in the Department of Health and Physical Education at his alma mater, Rice University.